Suppose that you are an event organizer, charged with the scheduling of the World Zunis Summer Games. This is an international competition for junior athletes modeled on the Olympics. The Games will involve about 5,000 competitors from all over the world, and are expected to draw more than 100,000 visitors to the host city. Expected revenues are in excess of $20 million. There will be TV coverage. After a prolonged bidding process, the Games have been awarded to Little Rock, Arkansas.
You are granted a certain leeway in scheduling the dates of the Games, and complete discretion in scheduling the timing of the individual events. As a first step, you contact NOAA and review the US Noontime Heat Index Map for July: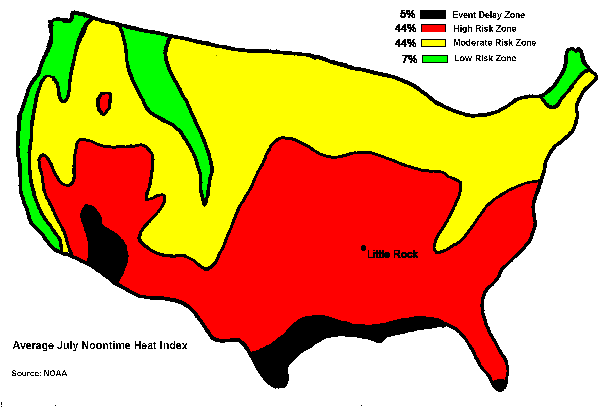 You realize that Little Rock sits squarely in the center of the High Risk Zone.
To continue, go to the Next Page.
---