On July 23rd, 1995, Andre Agassi won the ATP Legg Mason tennis tournament held in Washington, DC, by defeating Stefan Edberg 6-4, 2-6, 7-5. The afternoon match was held "with the temperature at court level hovering at 118 degrees." The match was marred, at 5-3 in the third set, when Agassi "discreetly threw up into a potted plant three times." Two games later, Agassi unexpectedly raced from the court to vomit in the locker room. After the match, Agassi said of the heat, "It's crazy. I don't know why I keep coming back."
Two years later, at the same tournament, on almost the same date (July 20th, 1997), Michael Chang defeated Petr Korda 5-7, 6-2, 6-1. It was noted that during the 5 days of the tournament afternoon temperatures on the courts "were above 110 degrees every day and topped out at an almost inhumane 116 degrees." Although Chang had the luxury of playing night matches until the finals, poor Petr Korda had endured Death In The Afternoon three days running before the finals. It was noted that Korda "was so crippled by the heat that he puked into a flower pot" during his quarterfinal match. As one writer put it, "Face it: A two person-in-three-years puke ratio is not exactly a promising statistic." Climatic conditions for this annual event are "an absolute nightmare."
To perform a "weather autopsy" on this event, more recent data is needed than that provided by the SAMSON database (1961-1990). In October, 1997, NOAA released an update to the SAMSON database, "Hourly US Weather Observations 1990-1995" (HUSWO). Data from this update is used to evaluate Agassi's bitter afternoon.
Washington DC was not one of the sites included in the SAMSON database. Examination of a nearby site, Baltimore (about 35 miles away and on average 1°F cooler than Washington), shows this yearly pattern: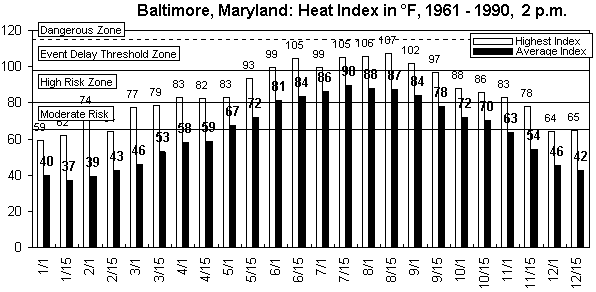 ---