It is always good to know if one has antecedents: Those who do not study history are likely to repeat its failures. We have carried out a very long and diligent literature search. The only published report outlining an approach similar to the one used in this Web site (at least that we have discovered to this point) appeared in 1991. That paper,"Heat Illness in Football Players in Alabama," was published by Francis and associates from the University of Alabama. This study was prompted by the relatively high frequency of heat-related football injuries, with at least 81 heat-related deaths.
In that study, the authors used NOAA weather information from four cities in Alabama, examining August and September from 1984 through 1988. Football uniforms present an unusual heat stress challenge, since this protective equipment covers over 50% of the total body surface, providing an insulating effect that impairs sweat evaporation. The key to Francis' analysis lies in the use of a formula devised by Fox and Matthews specifically for the special case of football players in full uniform. Here is a graphical presentation of that formula: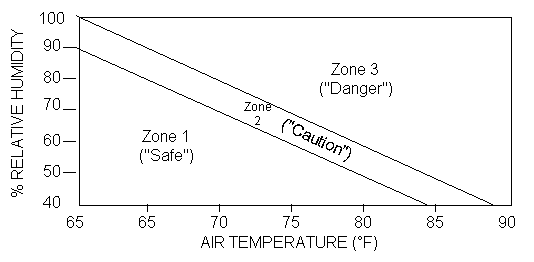 This method of heat stress estimation suggests that there is only a tiny zone, 5°F, separating safe from dangerous conditions at any given relative humidity. We are not equipped to comment on the accuracy of this formula, but there can be little doubt that full football gear poses a substantial heat injury hazard. The authors' conclusion is striking: "There were no environmental combinations at any time periods during the month of August for any locale in the state that would be considered safe for outdoors practice in full uniform...(In September) there were only two time periods during which players could practice outdoors with extreme caution, only in the northern and north-central regions of the state, 0900 and 1800."